Charleston's century-spanning literary tradition is as rich and diverse as the South Carolina city. In the Ultimate Booklover's Guide, you'll discover its roots; best-selling authors inspired by the city, many of whom call it home; books of all genres; literary festivals; and the best places to read a page-turner in Charleston, SC.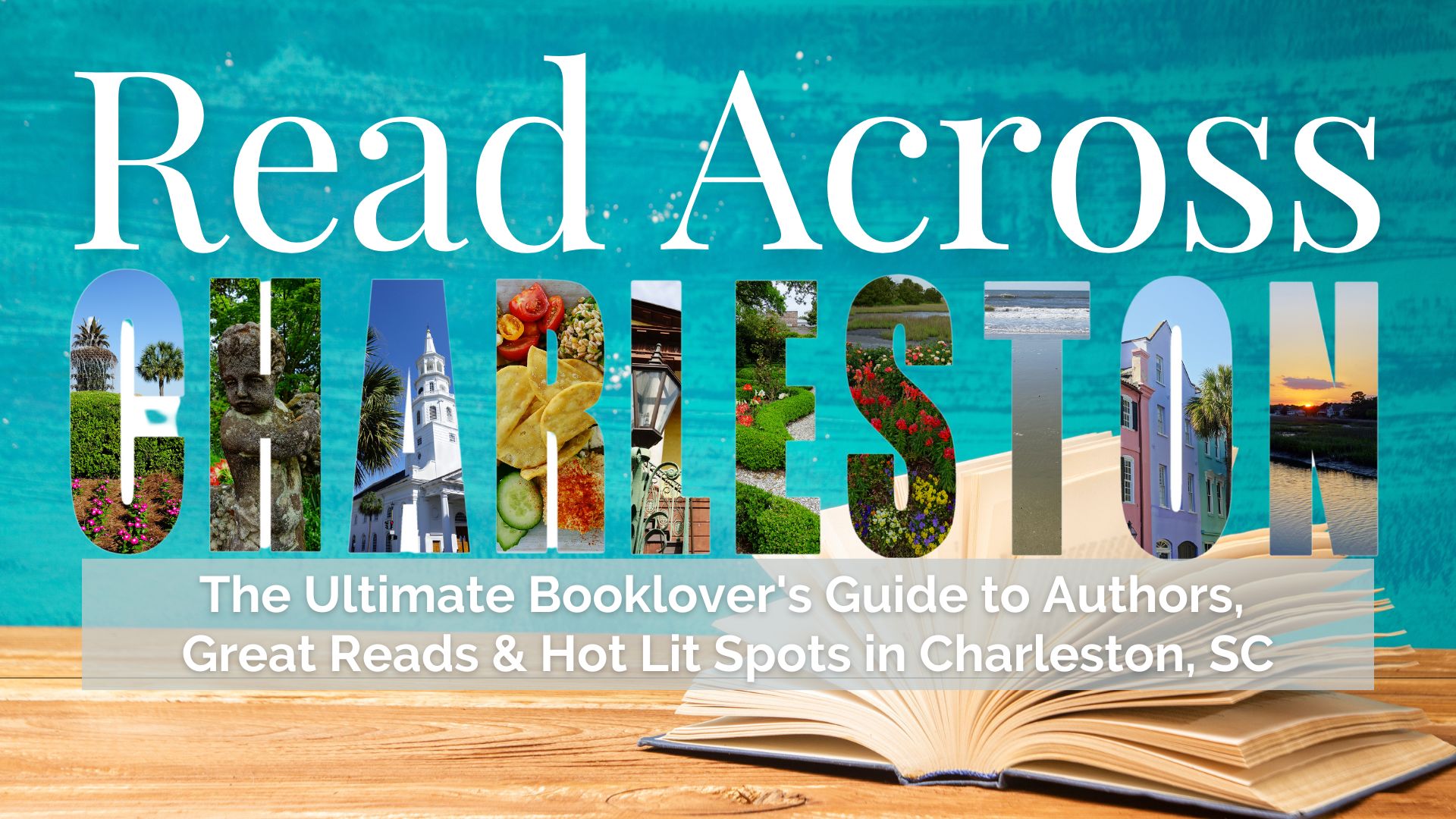 Charleston Authors
The city has produced many talented authors, from memoirists to novelists, poets to historians.
Pat Conroy is among the most famous authors to call Charleston home. His bestselling novels include "The Great Santini," "The Prince of Tides," and "Beach Music." Conroy was born and raised in the Lowcountry of South Carolina. His writing often drew on personal experiences and the region's cultural traditions.
Dorothea Benton Frank's novels explored the complexities of family relationships and the beauty of life in the South. She wrote over 20 books, including "Sullivan's Island," "Pawleys Island," and "The Hurricane Sisters."
Historian and author Josephine Humphreys is a Charleston native whose work explored race, class, and gender in the South. Her most famous novel, "Rich in Love," was adapted into a movie starring Albert Finney and Kathryn Erbe in 1993.
Other notable authors from Charleston include poet Kwame Dawes, who takes readers to intersections of race, identity, and language; Mary Alice Monroe, whose bestselling novels often feature environmental conservation and the beauty of the South Carolina coast; and Stacy Willingham, author of "A Flicker in the Dark."
Inspired Book Settings
With centuries-old Live Oaks draped in Spanish Moss, beautiful architecture, and charming communities, it's no wonder the city is the setting for many books.

"Porgy" by DuBose Heyward
The book, later adapted into a play and opera, was published in 1925. It tells the story of a disabled black man named Porgy and his love for a woman named Bess. Heyward drew inspiration from living in Charleston.
"The Lords of Discipline," by Pat Conroy
Published in 1980, is a coming-of-age story set at the fictional Carolina Military Institute, based on The Citadel, where Conroy attended.
"Love, Charleston," by Beth Webb Hart
Two women from different generations bond over a shared love of the city of Charleston. Through the stories of their lives, readers gain insight into the struggles of the city's past, present, and future.
"The House on Tradd Street," by Karen White
Melanie Middleton inherits a historic Charleston home from a great-aunt she never knew. As she begins to restore the house, Melanie discovers it's haunted by a young girl who died in the 1800s. With the help of a handsome real estate agent, Melanie embarks on a journey to unlock the house's mysteries and her family's past.
"The Southern Book Club Guide to Slaying Vampires," by Grady Hendrix
Book club enthusiast Patricia Campbell finds that her latest selection, a mystery novel about vampires, is more than it seems. After a series of strange occurrences, Patricia discovers the story is based on real-life events. She and her book club must band together to fight a real vampire terrorizing their city. 
"Choosing Charleston," by T. Lynn Ocean
After being uprooted from her childhood home and struggling to find her place in the world, Cara finds solace and a new beginning in Charleston. Through her journey, she discovers that home and family can be found in unexpected places and that love and belonging can be found in the most unlikely situations. 
"The Invention Of Wings," by Sue Monk Kidd
Tells the remarkable story of two unlikely allies: Sarah Grimké, an abolitionist, and her slave, Hetty "Handful" Grimké. The novel follows their intertwined lives from childhood in the early 1800s through the Civil War and Reconstruction. Through their unlikely friendship, Sarah and Hetty discover the power of their voices and their capacity to find strength, resilience, and freedom in the face of adversity. 

Notable Nonfiction
Check out these nonfiction books to discover why Charleston has inspired a literary treasure trove and to gain a deeper appreciation of this fascinating city.
"A Short History of Charleston," by Robert N. Rosen
Rosen examines the city's role in the American Revolution, the Civil War, Reconstruction, and more recent historical events. It discusses the growth and development of its economy, culture, and architecture.
"Charleston Then and Now," by W. Chris Phelps
This book looks at how the city has changed over time. It shares the history of the city's neighborhoods, businesses, and institutions. It also includes interviews with local historians, giving the reader an in-depth understanding of the city's history.
"The Allure of Charleston: Houses, Rooms, and Gardens," by Susan Sally
With its beautiful photographs and engaging stories, the book takes the reader through Charleston's architectural and cultural history. Through vivid descriptions of the city's grand homes, public spaces, and gardens, Sally provides an insightful look into how the past is reflected in the present.
"The Potlikker Papers," by John Edge
This award-winning book explores the history of Southern food and its relationship to civil rights in the United States. Edge takes a deep dive into the history of African American cooking and its surrounding culture.
"Coastal South Carolina: Welcome to the Lowcountry," by Terrance Zepke
Zepke takes readers through the area's culture and history, exploring its diverse landscapes, rich wildlife, and abundant recreational activities. This book is an excellent resource for anyone planning a trip to the Lowcountry of South Carolina.
Charleston Literary Festivals
A destination for authors and book lovers, the city hosts several literary festivals throughout the year.
Charleston to Charleston Literary Festival: This festival, which takes place annually in November, brings together writers, historians, and artists from the US and the UK for a weekend of lectures, panels, and discussions. Founded in 2017 by novelist Yvonne Ventresca and writer and historian Randy Shuler, the festival celebrates the literary connections between Charleston, SC, and Charleston, UK. Each year, the festival explores a different theme, ranging from "Historical Fiction" to "The Future of Democracy."
Lowcountry Book Club Convention: This convention, which takes place annually in March, gathers book clubs from across the Lowcountry region of South Carolina. The event features author talks, book signings, and panel discussions on various topics, from memoir writing to historical fiction. Attendees also have the opportunity to network with other book club members and to participate in a book swap.
YALLFest: YALLFest is the most prominent young adult book festival in the United States, annually in November. The festival brings together over 70 of the biggest names in young adult literature, including New York Times bestsellers and award-winning authors. Attendees can participate in panels, workshops, and book signings and can even attend a keynote address by a significant author. The festival also features a massive book signing event, where attendees can meet and get books signed by their favorite authors.
Charleston Antiquarian Book Fair: This annual book fair, which takes place in February, brings together booksellers, collectors, and book enthusiasts worldwide. Attendees can browse rare and collectible books, manuscripts, maps, and prints and attend talks and panel discussions on book collecting and history.
So "book"mark your calendars, and join the literary community for significant events and discussions.
Charleston's Book Movers and Shakers
Give your readers a rest. The podcast "Always Authors" features candid conversations between two authors. Representing the broadest spectrum of literary genres, episodes take listeners behind the keyboard and into the minds of their favorite writers. Locally produced, you can listen wherever podcasts are available and at the link above.
Connecting readers and writers for more than two decades, Blue Bicycle Books is Charleston's premier locally-owned bookstore and event space on King Street. Don't be fooled by the little 12-foot wide storefront; it's 172 feet deep and is packed with page-turners.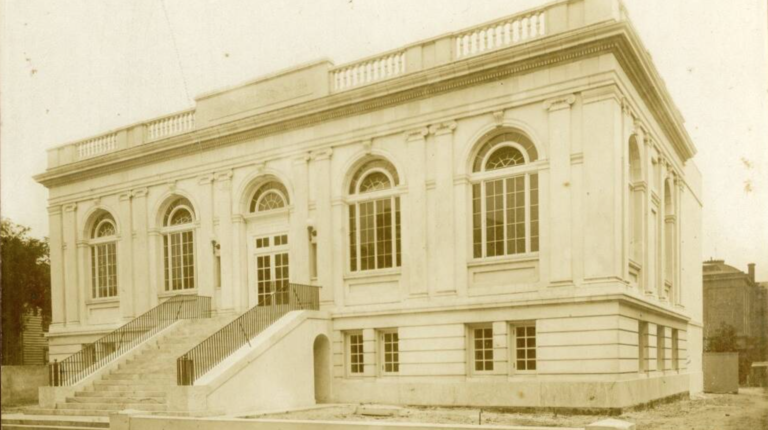 The Charleston Library Society is the birthplace of the city's literary scene. Founded in 1748, the Library Society celebrates its 275 anniversary this year. Housed in a Beaux-Arts architectural gem on King Street, it's the oldest cultural institution in the South and the second oldest continuous circulating library in the country.
During the Revolutionary War, the Society's collection was almost destroyed when the British occupied Charleston in 1780. However, through the dedication and perseverance of its members, the Society was able to rebuild its collection in the years following the war. In the 19th century, the Library Society played an essential role in Charleston's intellectual and cultural life, hosting lectures, debates, and other events that attracted some of the leading thinkers and writers of the day. Among the Society's most famous members was Edgar Allan Poe, who visited Charleston in the 1830s and lectured at the Society's meeting hall.
With a collection that has grown to over 60,000 volumes, including rare books and manuscripts, it continues to host a variety of lectures, concerts, and other events.
Read Across Charleston
Whether you want to curl up and get cozy or stretch out in the sun with a good book, Charleston provides plenty of prime book-reading spots.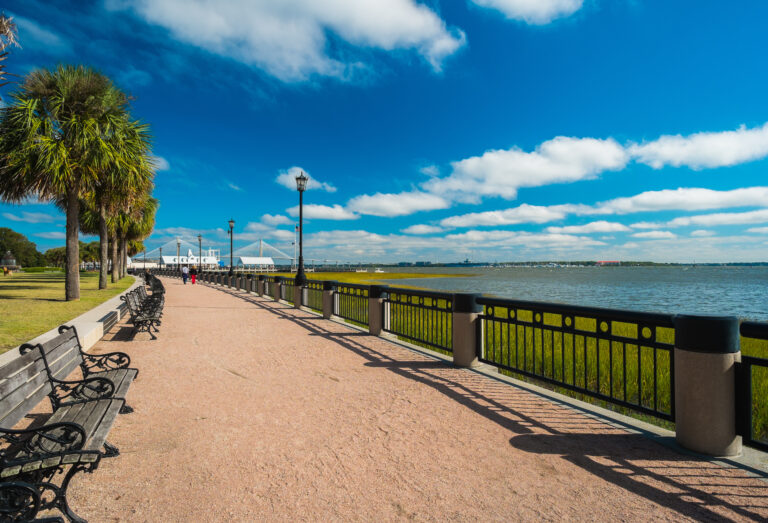 Waterfront Park
Located on the harbor in downtown Charleston, Waterfront Park is a favorite spot for tourists and locals. Known for its iconic pineapple fountain, there's ample seating, and the water view provides a beautiful break between chapters.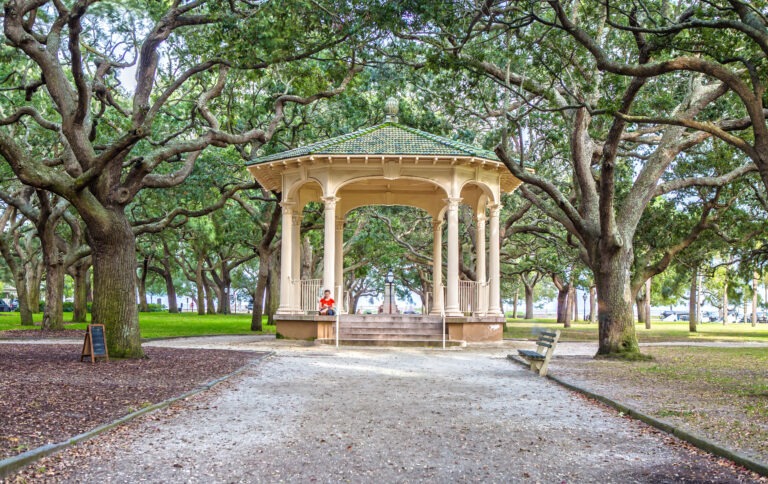 White Point Garden
This historic landmark park, located on the Battery in downtown Charleston, offers plenty of benches and salty breezes. You can find a shady spot under a majestic Live Oak.
Charleston's Beaches
Grab a beach chair and put your toes in the sand at Isle of Palms, Sullivans Island, Folly Beach, Kiawah, or Seabrook. Listen to the best background music for reading – crashing waves.
Serving up small-batch baked treats and Southern hospitality, they invite guests to: "Read a book. Finish your homework. Eat another cookie. Whatever makes and moves you, you'll always have a place at our table." Visit them at 1107 King Street in Charleston.
Palmetto County Park's dock on Horlbeck Creek offers a place to read and relax with the ripple of the tide. Located in Mount Pleasant, admission is $2.
—
Please help us expand and update this resource guide. Share Charleston literature-related info and events by emailing Susan Matthews at [email protected].
Ready for your next chapter? Would you like more inspiring surroundings? Learn more about The Matthew Group's "best seller" and homebuyer real estate services. Call Susan at 843·800·0921.